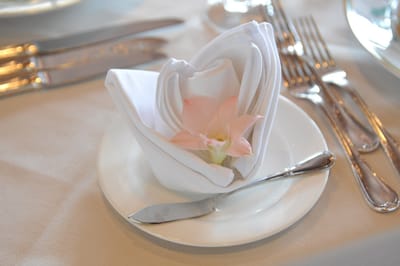 When designing an event, professional planners often rely on linen rentals to help achieve a vibrant, beautiful, and cohesive look. While the tablecloths and napkins you choose may not seem all that important at first, the pros insist that adding color, texture, and a bit of personality to the overall design story can really complete the look of a space. If you're trying to decide whether linen rentals are worth the cost, here are some ways your event will benefit from them.
Linens can provide a great design foundation.
The overall look of an event is influenced by a combination of a few factors, including chairs, flatware, florals, paper goods, and linens. Linens are the perfect way to bring in a special accent color and really bring your design to life. They're the foundation upon which you build the rest of your design. So, go ahead and pull in the bold colors from your color palette or play with textures-like velvets, sequins, or natural linens-that complement the space.
Linens are an easy way to transform a space.
You can completely change the way a room or space feels and looks by utilizing colored or patterned linens to create the exact feel you want for your event. Luxurious fabrics with a plush feel will make a space seem more formal, while more natural fabrics will lend a more rustic look to your event.
There are tons of options and renting linens is really easy.
If you rent through a company like Tablescapes by Tiffany, all you have to do is select the fabrics, colors, and sizes that work for you, and our team will have them delivered or shipped to your event. You might choose just tablecloths and napkins, or you could splurge on additional accents like table runners, chair cushions, and items like throw pillows and beanbags for the lounge areas. After the event, the catering team or event planners will pack up the soiled linens back in the duffle bags they arrived in and ship them back to us.
Linens add to the big picture.
It's easy to get caught up in the small details when planning a your event, and although linens may sound like one such elements, they actually add a lot to the overall design scheme. I always tell my clients you don't have to plaster starfish and seashells everywhere if you're getting married on the beach, the setting alone will set the tone. Instead, work with each design component to complement your surroundings and tell the story. Linens can subtly bring your design together cohesively without being kitschy or cute-a dusty rose napkin on a beach place setting will bring out the color of the sand.